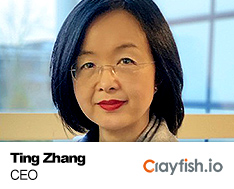 Known as one of leading China business experts in the UK, Ting Zhang has 25+ years experience of UK – China international business, trade and investment.
After a successful career in international trade and JV in China, Ting first came to Cambridge to study. Then in 2001, foreseeing the increasing trade with China, Ting left her career as a banker in the City of London to set up China Business Solutions which then became a highly reputable China specialist consultancies in the UK. Her clients have included hi-tech SMEs, FTSE100 corporates, top UK universities as well as UK / European government agencies and financial institutions in the US.
In recent years, with Chinese businesses going global to follow the "Chinese Dream", Ting had been engaged by some of China's emerging technology companies to help expand into the European market through M&A and technology partnership. She was also a China Venture Partner for Prime Ventures, a leading European VC, focusing on opportunities presented by the rapid economic growth of China.
In her continuous pursuit for a more efficient and affordable way to facilitate global trade, Ting launched Crayfish.io in 2017, the go-to platform dedicated to enabling better engagement with China powered by technology.
In July 2020, Ting was named in the prestigious "Most Influential Women in UK Tech" 2020 list by ComputerWeekly.com magazine.
Ting is an experienced public speaker on China and regularly writes on various aspects of doing business with China as well as Chinese investment into UK.