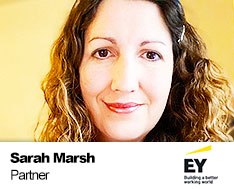 Sarah Marsh | Partner – EY Technology Consulting – Health & Lifesciences Lead
Sarah is passionate about driving health and well-being improvements in society through technology enabled business transformation. A senior Consultant, CIO/IT Director and Business Transformation Executive with 20+ years experience in Healthcare, Pharmaceuticals and Management Consultancy.
Specialising in Digital Transformation, Business Intelligence, IT Transformation, IT Strategy, IT Operations, ERP Implementations, Finance Transformation & Programme Management.