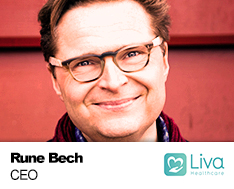 Rune Bech /
LIVA HEALTHCARE
Rune Bech is the co-founder of Liva Healthcare, that is selected as a provider by NHS England for its high-profile digital diabetes prevention programme. Liva Healthcare already has a mature market in Sweden and Denmark, and are driving strong clinical outcomes through its platform for lifestyle change with a real human personal coach via an app.
Rune Bech is one of Europe's "dotcom front-runners". Already in 1998 he co-founded NetDoctor.com, the leading European health information portal. So far he had co-founded and sold three digital health companies in 21 years, with Liva being the latest venture with offices in London and Copenhagen.
As a passison Rune Bech is also the driving force behind Copenhagen's legendary live jazz venue, Jazzhus Montmartre.
Entrepreneurship
– 1998: Co-founder, NetDoctor.com (health information portal – acquired by Apax Partners, Hearst Media and others in 2001-06).
– 2002: Co-founder, E-Doktor (digital lifestyle management – acquired by Aller Media in 2008).
– 2006: Co-founder, SundhedsDoktor (occupational health services – acquired by Falck Healthcare in 2016).
– 2015: Co-founder, Liva Healthcare (digital health coaching platform – offices in Copenhagen and London).
Corporate Roles
– 2001-07: Chief Digital Officer, TV 2 Denmark (leading national public service broadcaster).
– 2012-15: Executive Vice President, Saxo Bank (global investment bank – Chief Digital Officer / Group Communications Officer).
Board Positions
– 2008-2018: Chairman, Nianet (B2B fiber broadband provider, acquired by EQT in 2018).
– 2007-2010: Chairman, Waoo (B2C triple play provider).
– 2008-2010: Board Member, Boozt.com (fashion e-commerce).
– 2003-2006: Board Member, JobZonen (e-classifieds).
Media Roles
– 2007-2009: Columnist for Børsen (the Danish business daily).
– 1997-1998: Foreign reporter, TV 2 Nyhederne (foreign news desk of Denmark's leading broadcaster).
– 1989-1997: Foreign correspondent, Politiken (Eastern Europe and London).
Arts and Culture
– Since 2010: Founder and CEO, Jazzhus Montmartre (Copenhagen's legendary live venue for world class jazz with 200+ annual concerts). Read that story here.
– Since 2012: Advisory Board Member, Film Fyn (regional film council).
– 2014-2016: Committee Member, Danish Ministry of Culture's Public Service Media Committee (appointed by the minister of culture / chaired by ex-EU commissioner Connie Hedegaard).
Education
– Danish School of Journalism, University of Aarhus, University of Sussex, LSE, and INSEAD.