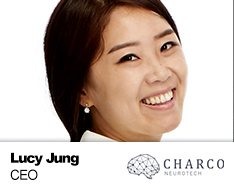 Lucy Soo Min Jung studied MSc Innovation Design Engineering at Imperial, graduating in 2019. This MSc/MA Innovation Design Engineering programme is jointly run by Imperial and the Royal College of Art
During her Master's, Lucy co-founded Charco Neurotech, which makes wearable tech to relieve Parkinson's symptoms –
In February 2021, the Imperial College Investment Fund (ICIF), an early-stage investment fund launched in early 2020, announced that it had made its first investment, of £205,000, in Charco Neurotech. The company will launch its non-invasive device – CUE1 – in the UK and EU in early 2021.
In July 2020, Charco Neurotech was one of the 21 teams from Imperial shortlisted in the Mayor's Entrepreneur competition – In September 2020, Charco Neurotech were also named the winners of the Imperial College London-LSE virtual demo day, pitching their business idea alongside other Imperial alumni start-ups –
As CEO of Charco Neurotech, Lucy works alongside other Imperial graduates: Alex Dallman-Porter (Operations Manager), Adrien De Saint Victor (Project Manager), and Fahd Abdeljallal (Medical Software Engineer).