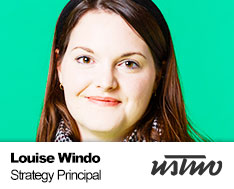 Louise Windo – Strategy Principal
"Louise is a Strategy Principal at ustwo London, where she leads the discovery of new digital products from vision setting, through to designing and delivering programmes for continuous testing and iteration in the wild. She is currently working on the launch of a new audio entertainment product, and has a particular passion for bringing her cross-sector experience into the health and well-being space.
Prior to joining ustwo, Louise spent 2 years working within a healthcare innovation unit in partnership with a global pharmaceutical company, developing new product and service concepts to tackle some of the biggest problems in healthcare.