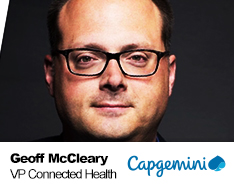 Geoff McCleary /
Capgemini
As a leading connected health, and digital therapeutics evangelist, Geoff is a sought after commentator and speaker who has been featured in the NY Times discussing the impact of connected health and the future of healthcare. He is an expert source and proponent of using innovation and emerging technologies to create meaningful experiences and outcomes for patients, consumers and physicians, and he routinely provides executive teams with a clear focus on the future trends and forecasts that they need to carefully navigate this rapidly evolving space.
Geoff consults key healthcare & PLS leaders on important strategy & policy issues in this dynamic field, from digital as medicine, mobile & smart devices, to wearables, connected health tools & programs, and IoT Health implications.
Geoff earned a bachelor's degree in Economics from Penn State University.
Specialties:
– mHealth evangelist
– Innovator in mobile mktg & integrated programs
– Expert in creating integrated marketing programs
– Veteran global mHealth strategist & consultant
– Proven expert in building & launching successful client brands