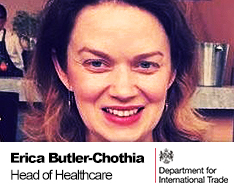 Erica Butler-Chothia /
DFIT, UK
Erica Butler-Chothia | Head of Healthcare – Health Education, Infrastructure and Digital Health,
Erica is an experienced public policy professional and programme manager, specialising in innovation and capacity building. With a career spanning the private sector, not-for profits and the civil service, Erica has successfully applied multidisciplinary approaches to analysing complex issues and designing sustainable solutions to policy and operational problems.
In addition to her work in the United States and Europe, Erica has contributed expertise and training to open policymaking and structural reform projects in Armenia, Bangladesh and Zambia.
Her strengths include strategic planning, stakeholder management and dialogue facilitation, problem solving approaches, research planning and project management.