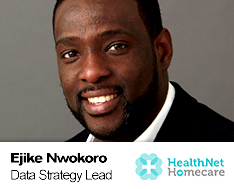 Dr Ejike Nwokoro /
HealthNet Homecare
Dr Ejike Nwokoro is the Head of Patient Insights & Data Strategy at HealthNet Homecare and currently leads the Organisation's Predictive Analysis Project that is exploring the use of Machine Learning to predict the risk of poor medication adherence in patients diagnosed with Long-term Conditions.
Ejike has over 10 years combined experience within Public Health Research, Clinical Service Management and Pharmaceutical Consulting. He is a Medical Doctor by background and has postgraduate qualifications in Public Health, Quality Improvement, Healthcare Management and Health Economics.
Ejike has designed and monitored the implementation of over 100 Patient Support Programmes (PSPs), to operational effectiveness. He has also supported large pharmaceutical companies in validating their Global PSP strategy and subsequent country-level adaptations. He has worked on various multi-national research projects including DRIVE-AB (Driving reinvestment in R&D for responsible antibiotic use) and i4C (Strengthening International Collaboration for Capitalizing on Cost-Effective and Life-Saving Commodities).
Ejike has served as Research Abstract Review Committee Member for The International Professional Society for Health Economics and Outcomes Research (ISPOR).