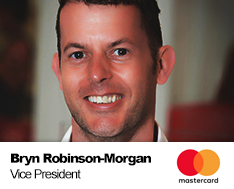 Bryn Robinson-Morgan /
MasterCard
Bryn Robinson-Morgan, Vice-President, MasterCard – Bryn has worked at the forefront of digital transformation and technology led innovation for the last 15 years.  He is a key influencer for how people transact and interact in the digital age.  Redefining the customer experience for trusted interactions and helping major organisations evolve their customer architectures.
As Product Lead he was responsible for the launch of citizen digital identity services with two of the UK's leading brands. Bryn was a key voice in the establishment of a trusted identity framework for the UK Government as part of their digital by default agenda.  He now speaks on a global stage for public and private sector partnerships for global digital identity initiatives.
Bryn has worked on numerous successful customer experience transformation programmes of work including retail self-service, point of sale automation, secure biometric enrolment, back office transformation and business process remodelling.
He is a protagonist of thought leadership through his published media and at industry collaboration events. Bryn is highly skilled in Agile programmes, with a portfolio of delivery success behind him.