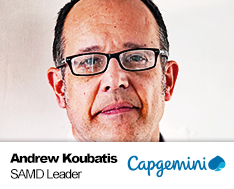 Andrew Koubatis /
Capgemini
Andrew Koubatis – Capgemini Engineering SAMD Leader
Andrew Koubatis leads Capgemini Engineering's SAMD / DTX offer, which helps accelerate the development of compliant, secure, and scalable medical device software.
With a background in systems engineering and automation. Andrew has over 30 years of experience in safety-critical, software-based systems in regulated industries, including aviation, medical devices, and industrial control systems.
Over 16 years in Capgemini, Andrew has supported the development and compliance of medical devices, medical apps/wearable devices, remote patient monitoring systems, and combination products.