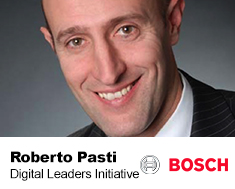 Roberto Pasti /
Roberto Pasti is an experienced leader who transforms traditional companies into disruptive digital business. Currently he is leading digital transformation projects in European Companies. He uses a consultantive approach that started with systemic business design ending with the implementation through any kind of technologies. Roberto does worked and has deep inside for Bosch Group, Boston Scientific and Health Connected. Roberto spent more then 10 years at Siemens AG Business division and Business Development of ICT business. During his tenure at Bosch, Roberto implemented industry's leading Internet of Things and big data platforms, developed the business strategy for IoT and launched Predictive Platforms, and transformed business models.
An astute business executive, Roberto guided the launch of Vinci Big Data Analytics offering, and the Systemic Business Model Design offering, Digital Transformation Initiative anywhere, in the market.
As a modern Executive, Roberto, in addition to managing Digital Transformation strategies, also participates actively in helping the company grow revenues. He helped forge strategic alliances between Intalio and HP, a visionary Cloud Computing enterprise in California, and a prominent Open Source company. As a thought leader, Roberto has served on advisory boards of Middle Size Companies in the DACH region, given innovation workshops at Nokia in Bejing, and big data transformation to hundreds of executives around the world.