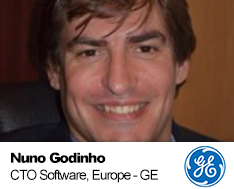 Nuno Godinho /
Highly motivated and professional General Manager of Software Engineering and CTO with 16+ years experience working in corporations of all sizes, across multiple countries like Portugal, USA, UK, Belgium, Spain, France, Finland, Sweden, Poland, Estonia, Czech Republic, among others and industries like Banking, Healthcare, Retail, Telco, Insurance and Travel among others.
Deeply technical and hands-on but extremely focused on achieving business results and optimizing Engineering organizations. Strong believer that IT should be transparent in an organization and provide the required agility allowing the business to be more successful.
Excellent track record of achieving the highest quality in delivering proposed results. First-class technology, business and organizational skills with the ability to consistently deliver the highest quality work.