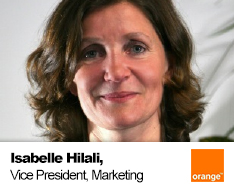 Isabelle Hilali /
Isabelle Hilali currently acts as Vice President of Strategy and Marketing at Orange Healthcare. As such, she leads the Orange Group's healthcare strategy and marketing activities, including strategic vision, customer knowledge and market studies. She leads a team of experts specialized in various fields: from medical establishments and insurance to seniors and pharmaceuticals. Isabelle also coordinates research activities with a dedicated R&D team and skills centers in France and internationally.  She is a member of Orange Healthcare's leadership team.
Isabelle believes strongly that innovation is at the heart of healthcare transformation.  This transformative process will enable truly personalized care, increased efficiencies and transparency.  She works with partners on a number of initiatives including co-innovation projects, the accompaniment of the healthcare industry's digital transformation, the digitization of healthcare workflows, identifying opportunities to add value to healthcare data, and the development of new preventive services for the general public as well as for the ageing population to age well at home.
Today, Orange Healthcare is using its unique position as a telecoms operator with a clear understanding of the healthcare ecosystem to seek out the healthcare solutions of tomorrow, enabling low-cost wellness and high-value healthcare, in a rapidly evolving care context.
Isabelle was the driving force behind the creation of the Healthcare Data Institute, and is currently its Secretary General. The Healthcare Data Institute is a think-tank that brings together key players from across the healthcare industry, to collectively generate new ideas, co-develop big data strategies, and to raise awareness around the benefits of big data in healthcare.
Prior to joining Orange Healthcare, Isabelle headed up various sales, marketing and business development teams for the Orange Group, both in Europe and internationally, with previous experience spanning the telecommunications and internet industry.
Isabelle holds degrees from Sciences Po Grenoble and the Panthéon Sorbonne in the areas of strategy, international affairs and political studies.
She frequently speaks in high-level conferences and academic institutions on subjects of healthcare and innovation.