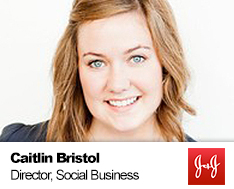 Caitlin Bristol /
Johnson & Johnson
Caitlin is a creative strategist working at the intersection of business and social impact. She currently serves as Director of Social Business Practices at Johnson & Johnson. In this role, Caitlin is responsible for identifying and scaling innovative approaches that use the full capacity of the business to deliver on Johnson & Johnson's broader community impact goals, delivering value for vulnerable populations and people on the frontlines of care.
Before joining J&J she spent six years at eBay where she helped leaders and teams leverage technology and commerce as a force for good – by creating economic opportunity, driving a more circular economy, and helping people support the causes they care about. Prior to eBay she led strategic campaigns, content and creative for the Silicon Valley start-up ecofabulous.com (now part of The Huffington Post).
Caitlin is an Aspen Institute First Mover Fellow and serves on the board of Global Action Through Fashion and Turning Green. She received her B.A. in English Literature and Political Science from Santa Clara University, and studied sustainable design at UC Berkeley. She currently lives in London with her husband and son..